FAQ
\r\n
What is 3M™ DI-NOC™ and what makes it so great?
\r\n
\r\n\r\n3M™ DI-NOC™ is a high-end vinyl from 3M™ from their Architectural Finishes series. The vinyl can be installed on all sorts of surfaces, regardless of the curvature. This means there are an unlimited amount of applications, from the interior of your car to the back of your laptop. We offer 9 different color/finishes, the original "carbon fiber" look is the black CA-421 model that we sell, which gives a dry carbon look. Contrary to initial belief, carbon fiber DI-NOC™ is not just a printed carbon fiber pattern, but in fact has a three-dimensional texture to it. This allows it to reflect light the same way that real carbon fiber would, making it the best real-world alternative to carbon fiber when you just want the look without paying a ton of money. On top of that, the vinyl is easy to work with once you add heat to it with a heat gun or blow dryer. The material becomes much softer and pliable, making it extremely easy to install in comparison to other vinyls. Check out this video we did showing how the material can be completely wrinkled, and just adding heat to it makes it go back to normal:\r\n\r\nhttp://www.youtube.com/watch?v=-z3mb85nxdY\r\n\r\nThere are plenty of other benefits that make the 3M™ DI-NOC™ carbon fiber vinyl awesome, just keep reading! To read full technical specs from 3M,
take a look at their PDF
.\r\n\r\nHere's one pic that speaks volumes for what 3M™ carbon fiber DI-NOC™ is capable of:\r\n\r\n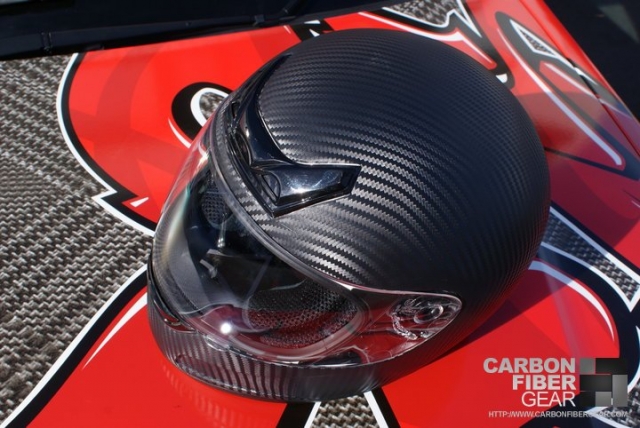 \r\n\r\nBe wary when buying 3M™'s DI-NOC™ from buyers where it may seem like you are getting too good of a deal. There has been a rampant problem of knock-off DI-NOC™ material that will be nowhere near as good as genuine 3M™ material. Carbon Fiber Film only sells genuine material, directly from 3M™ so you can be confident in your purchase with us.\r\n\r\n
\r\n
What important things do I need to know?
\r\n
\r\n\r\nWhile 3M's DI-NOC is an amazing material, and by far blows the competition out of the water, there are things you need to make sure you are aware of. You should definitely read completely through our FAQ here to get a full understanding, but here a few key points worth noting:\r\n
\r\n
There is no warranty on 3M DI-NOC

\r\n

We highly recommend that you use primer 94. Primer 94 is a light bonding primer that you brush on the edges, corners, and uneven surfaces of your substrate.

\r\n

There are an unlimited number of applications that DI-NOC can be used, and we obviously can't experience all of them. The general rule of thumb is that a smooth/hard surface will generally have no problem with adhesion. When in doubt, always test first. Whether you are seeing how a cleaner will react, how a clearcoat works, how it adheres to a substrate, use a small sample piece first if you have any question or doubt.

\r\n

DI-NOC is meant to be a permanent application. The adhesive is strong, and it is possible that it could damage the substrate you are installing on if you try and remove the DI-NOC. You should understand that while it's possible to remove it without damage, there is still a chance you will have issues.

\r\n

DI-NOC has become a pretty popular material, because it's a quality product made by 3M. When you buy from Carbon Fiber Film, you can be sure you are getting genuine 3M DI-NOC material and not a knock-off. As it has become more and more popular, we've seen more and more knockoffs coming out in the market. You must be careful. There are a few key things worth noting. DI-NOC is only available in a 48″ width. There are only 9 colors of carbon fiber made.

\r\n
\r\n
\r\n
Does it come in other colors?
\r\n
\r\n\r\nYes! We carry 3M DI-NOC in 9 different color/finishes:\r\n\r\n
\r\n
\r\n
CA-418 – Silver

\r\n

CA-419 – White

\r\n

CA-420 – Graphite/Gunmetal

\r\n

CA-421 – Black

\r\n

CA-1170 (Aka 421GN) – Gloss Black

\r\n

CA-422 – Light pewter

\r\n

CA-423 – Dark pewter

\r\n

CA-424 – Brown

\r\n

CA-5429 – Semi-Gloss Red

\r\n
\r\nWe've posted a little video showing you all of the colors as well (Note that red/gloss black is not included):\r\n\r\nhttp://www.youtube.com/watch?feature=player_embedded&v=0sAMXmSotbQ\r\n\r\nPlease note that the CA-419, CA-419, CA-1170, CA-422 and CA-5429 (silver/white/light pewter/gloss black/red) don't have the same outdoor durability testing from 3M as the other colors, and aren't guaranteed for 4 years. With that in mind, we've never had a problem yet with the lighter colors being outdoors, and for applications like show cars or garaged cars where they won't be under the sun too much you really shouldn't expect any issues.\r\n\r\n
\r\n
I just want to try it, can I get a sample?
\r\n
\r\n\r\nAbsolutely! We sell a 4″x8″ sample that we will mail for just $8. This will allow you to check out the material in-person before spending more money to buy material, but we can assure you…you're going to love it!
Buy a sample piece today
.\r\n\r\n
\r\n
What are the sizes in other measurements like yards, meters, centimeters, etc?
\r\n
\r\n\r\nWe've created the following chart to show you all of the measurements:\r\n\r\n
\r\n\r\n
\r\n
How much do I need?
\r\n
\r\n\r\nWe always recommend measuring whatever you'll be wrapping with the 3M™ DI-NOC™ vinyl to be certain you purchase enough material. A good way to measure is by taking a string or measuring tape and follow the contours of whatever you are wrapping. Don't forget to add a few inches extra as a precaution.\r\n\r\nNeed some ideas? 24″x48″ will cover most laptops, and 60″x48″ will usually cover an entire roof of a car.\r\n\r\nFull cars typically need about $1,000-$1,500 worth of material, much less than it would cost to paint the entire car!\r\n\r\n
\r\n
What tools do I need? If I want to take it to a shop to get installed, where can I go?
\r\n
\r\n\r\nUsually any good tint or car wrap shop can will be able to install the vinyl. If you do it yourself you may need the following tools:\r\n\r\n
Heat:
A good hair dryer or heat gun will work. Heat will allow you to stretch the vinyl and help conform it around contours.\r\n\r\n
Razor Blade:
A razor blade or X-Acto knife will help you cut excess pieces and help conform the vinyl around needed areas.\r\n\r\n
Squeegee:
A squeegee is used to smooth out the vinyl and remove air bubbles are you are installing. Be sure to be careful so you don't damage the vinyl while using a squeegee. We recommend using a towel over the squeegee so that it's soft on the material.\r\n\r\n
Primer 94:
We highly recommend using 3M™ Primer 94 which is a liquid adhesive promoter and edge sealer. Simply apply it to complex curves and/or exposed edges, and it will help to ensure the material stays down over time. We don't sell this because we ship material worldwide, but the Primer 94 is a hazardous material that creates too many issues with shipping…but you can pick it up at
this site
. Please keep in mind that Primer94 is a bonding agent and will essentially make your installation permanent.\r\n\r\n
\r\n
Can it be used outdoors? What about on my car or motorcycle?
\r\n
\r\n\r\nYes and yes! While the material has a 12 year lifespan indoors, it has a 4 year vertical lifespan outdoors (3 years in desert sun). This is all dependent on UV light exposure, so if the material is installed on a car that is parked in a garage during the day or a show car that is mostly indoors, you can expect the material to last longer. It's water resistant, so rain and snow won't be a problem. Horizontal outdoor decoration is not recommended by 3M as exposure to maximum sunlight and environmental conditions can cause color change, loss of gloss, chalking and premature failure.\r\n\r\nAlso please keep in mind that some of the lighter colors don't have the same rated durability. Make sure to read about the different colors in this FAQ to fully understand.\r\n\r\n
\r\n
How durable is the material with heat and cold?
\r\n
\r\n\r\n3M™ tested the durability on their end for heat and cold. Here's what they did, as well as the results:Heat Testing\r\n\r\n3M™ installed the material on an aluminum plate and left it in 150 degree (F) temperature for 28 days. There were no issues seen.\r\n\r\nCold Testing\r\n\r\n3M™ installed the material on an aluminum plate and left it in temperatures between -22 (F) to -150 (F) degrees for 12 days. There were no issues seen.\r\n\r\n
\r\n
How do I wash it?
\r\n
\r\n\r\nTo clean it we recommend using a non-abrasive soap with water.\r\n\r\n
\r\n
What can I stick it on?
\r\n
\r\n\r\nAlmost anything. Wood, MDF, particle board, mortar, artificial marble, steel, aluminum, glass, plastic, and even itself. The possibilities are endless! Typical applications are non-pourous, hard surfaces. Soft surfaces or fabric likely will not adhere well.\r\n\r\n
\r\n
Can I make the material glossy by using a clear film or clear coating over the top?
\r\n
\r\n\r\nWe experimented a bit with clearcoating the material and were pretty happy with the results. You can read more about what we did, what we used, and how it came out
on our blog post
. Please understand we simply did a test with clearcoating the material to see how it would turn out. That is by no means a recommendation, you should always test on a sample piece first to see if it comes out the way you want.\r\n\r\n
\r\n
Can it be removed?
\r\n
\r\n\r\nDI-NOC architectural finishes may be removable, but it is also possible that it may damage the substrate underneath. DI-NOC should generally be considered a permanent application. If Primer94 is used (which we recommend for installation), it should not be expected to be removed without substrate damage since it's an adhesion promoter. DI-NOC becomes more difficult to remove over time after application. 3M lists the following steps for removal tips:\r\n\r\nThe following removal techniques can be tried, but the effort and results will vary.\r\n
\r\n
Carefully make a 20cm (8 inch) cut on the DI-NOC film, avoid damaging the base.

\r\n

Warm and soften DI-NOC with home blow dryer or heat gun on a low setting

\r\n

Peel the film in small strips

\r\n

You may remove the remaining adhesive on the base with an approved 3M™ adhesive remover

\r\n
\r\n
\r\n
Is there a warranty?
\r\n
\r\n\r\nThere is no warranty on this material. We cannot guarantee durability. However, thorough testing and use of this product throughout the world for many years indicates that it is highly durable. Please make sure to read through our entire FAQ as well as
3M's technical specifications PDF
for any questions you may have regarding material durability, removal, and/or warranty.\r\n\r\n
\r\n
How much is shipping, and do you ship internationally?
\r\n
\r\n\r\nShipping varies depending on how much material you order at a time. All of our shipping is done through either USPS Priority Mail or USPS Express Mail. We typically ship material in cardboard tubes to ensure that your order arrives safely. Simply add the size you need to your shopping cart, and you'll be able to get the shipping price.\r\n
International Orders
\r\nWe are very international friendly, we've shipped almost everywhere in the world. To read about our international ordering process, please see this page.\r\n\r\n
\r\n
Do you offer larger sizes or wholesale pricing?
\r\n
\r\n\r\nWe do offer larger sizes and pricing for half rolls and above. Keep in mind, sizes in the half roll (82ft x 4ft) are well over $1,000 when considering your budget. For other sizes, check out our
blog post about it
.If you are registered business in the US, you can read more and apply to our
wholesale program here
.\r\n\r\n
\r\n
Who is Carbon Fiber Gear and dpitMedia, LLC, and what do they have to do with this site?
\r\n
\r\n\r\n
Carbon Fiber Gear
is the site that operates CarbonFiberFilm.com. It's all about everything carbon fiber, so I'm sure you can understand why we started this site. dpitMedia, LLC is the parent company for both entities. All of our orders are taken and processed through Carbon Fiber Gear, so don't worry when you go there after clicking buy now…that's what's supposed to happen.\r\n\r\n
\r\n